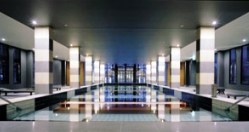 EXPECT MORE... from the Mansion Hotel & Spa - The historic buildings of the Mansion Hotel & Spa at Werribee Park (acquired by the Lancemore Group in August 2012) provide a classic & elegant backdrop for any conference or group event. Only 30 mins from Melbourne & 35 minutes from Tullamarine Airport, in the heart of picturesque Werribee Park, this boutique hotel & conference retreat is for those who want the very best!
There are 91 contemporary guestrooms & suites with luxurious amenities... A plethora of recreational facilities including, indoor swimming pool, steam rooms, gymnasium, tennis courts & running tracks through the parklands. LeSpa offers 8 luxurious treatment rooms whilst the Historic Chirnside Mansion, Werribee Park Golf Club, Victoria's Open Range Zoo & Shadowfax Winery are all on the doorstep. With significant conference & function space for up to 140 delegates, this is an extremely versatile, convenient & desirable professional retreat destination.
*Ask your Ultimate Consultant about the special offer currently available at this venue! Big savings to end 2012 & even bigger to kick-off 2013!
READ MORE…
It's hard to believe that a relaxation destination of world class standard can be located a mere 30 minutes from a buzzing city like Melbourne. The Mansion Hotel & Spa at Werribee Park is nestled amongst some of the most beautiful landscapes in Victoria and provides a tranquil retreat away from the weight of the outside world. Boasting the region's first Italianate Mansion, the 1870s house stands majestically, harmoniously intertwined with the sophisticated Mansion Hotel & Spa of today.

Surrounded by 10 acres of gardens and manicured grounds, this richly historic building has been transformed over the years while still maintaining the heritage and tradition The Mansion has embodied for over a century. Without sacrificing the unique tapestry created throughout the years, the Mansion Hotel & Spa embraces a sophisticated and timeless ambience with all 91 guest rooms and suites featuring the facilities and amenities one would expect of a luxury Victorian hotel.

The Mansion Hotel & Spa provides a number of recreational facilities for guests including, 17m indoor swimming pool, steam rooms, gymnasium, tennis courts and running tracks through the parklands. For some blissful rejuvenation and an ethereal escape, LeSpa offers 8 luxurious treatment rooms and also offers a relaxation lounge plus a diverse range of beauty therapies to reinvigorate the soul, body and mind. The Library, reminiscent of a Gentleman's Club with its dark, rich and friendly atmosphere, provides guests with a space for relaxing, reflecting and recharging. The Snooker Room an ideal place to unwind with friends or colleagues.

Joseph's Restaurant & Bar overlooks the formal gardens of Werribee Park, with guests able to enjoy the breathtaking views over Australia's largest Parterre garden. Dining in an atmosphere that is both relaxed and refined, every aspect of the food and service is carefully and professionally considered. Offering modern European cuisine with an emphasis on local produce, together with over 200 wines from the extensive wine list, diner's tastebuds will be left sensationally satisfied. The restaurant is open for breakfast, lunch and dinner, seven days a week, while the bar serves a range of cocktails, wines by the glass, boutique beers and delicious snacks every day from early until late.

The hotel is also within walking distance of a range of activities for corporate groups - tours of the Historic Chirnside Mansion, Werribee Park Golf Club, Victoria's Open Range Zoo and Shadowfax Winery just some of the options to complement your program.

Setting a benchmark for conference and event venues in Victoria, facilities at The Mansion & Spa combine the successful synergy of contemporary style and purpose-designed meeting spaces, state-of-the-art technical facilities, gourmet menus and service flexibility to create an extremely versatile and desirable conference and professional retreat destination. The Mansion Hotel & Spa offers eight flexible meeting spaces for up to 140 guests banquet style – 3 x boardrooms, 2 large meeting rooms, The Ballroom, the Theatre and The Pavilion.

"Expect more" from The Mansion's dedicated conference team who will work with you to ensure a successful outcome for your next conference, retreat or event… More natural light, more break out space, more comfort, less stress!

**CURRENT VENUE SPECIAL OFFERS**
Finish off 2012...

before 21 December 2012, with 10% discount

on residential conferences at this and ALL Lancemore Group properties (T&Cs apply)

Kick off 2013...

for January 2013 only, with 25% discount

on residential conferences at this and ALL Lancemore Group properties (T&Cs apply)

PLUS

, value added incentive

provided by Ultimate for

ALL bookings confirmed prior to 31 December 2012

- ask your Ultimate consultant today for more details!

CONFERENCE VENUE CAPACITIES
(PLEASE NOTE - exclusive use of this venue may also be available subject to availability - minimum numbers applicable)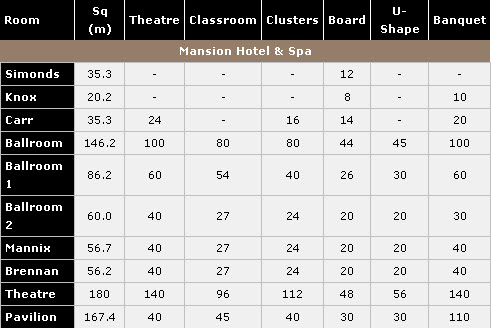 OUR CLIENTS SAY…

Join the likes of Shell Company of Australia, John Holland Group, Siemens, Alchimie, National Australia Bank, CGU Insurance & more
"We received outstanding service... our staff kept mentioning to me, gosh, their staff are so friendly, nothing is too much trouble, they are always smiling... Keep up the good work!! The standard and variety of food that was part of the delegate package was excellent - plenty of it and soooo fresh... Those (with a very simple palette) who were initially a little spprehensice with the dinner menus were so impressed once the food came out and they tasted it... The whole venue was perfect for our workshop... Such a pleasant environment to take time out and think...
I think I have just writted War & Peace - just THANK YOU??? Your entire team made me look good!"
To This email address is being protected from spambots. You need JavaScript enabled to view it. regarding your next off-site residential conference or event,
please This email address is being protected from spambots. You need JavaScript enabled to view it.
Join with us on 15-16 September 2012 for an overnight client networking experience! Hosted dinner, luxurious accommodaiton & breakfast, educations site inspection plus some surprises along the way... See for yourself why our clients can "expect more" at Lancemore Group venues...

PLUS,
Complimentary Team Activity & Drinks - Bocce & Croquet with Che'f cheese plate & Estate wines served on the lawn when booking a residential meeting package via Ultimate throughout July - September 2012
Terms & Conditions apply… Ask your Ultimate consultant for more information